27 Sep 2023

PGF Capital sets its sights on agrotourism-themed development

Source: https://theedgemalaysia.com/node/683055

By Liew Jia Teng / The Edge Malaysia

This article first appeared in The Edge Malaysia Weekly on September 18, 2023 – September 24, 2023

IN the heart of Tanjung Malim, Perak, a sprawling 1,311.15-acre tract of land has lain dormant for almost three decades, awaiting the right opportunity to awaken.

That opportunity appears to have finally arrived in the form of mega investments in an adjacent automotive hub, which would be a major catalyst for a planned township on this valuable piece of land.

Owned by Penang-based insulation products maker PGF Capital Bhd, the chunk of land lies adjacent to the Automotive High-Tech Valley (AHTV) in Proton City — an automotive hub that is set to receive a colossal US$10 billion (RM46.8 billion) investment from China's auto giant Zhejiang Geely Holding Group Co Ltd. As Geely aims to turn Tanjung Malim into the largest auto city in the region, this is expected to lead to a wave of job opportunities.

Capitalising on the potential, PGF is now crafting an ambitious 10- to 15-year master plan to develop a self-sustaining, agrotourism-themed integrated township, dubbed Diamond Creeks Country Retreat, on its once sleeping tract.

According to PGF group CEO and major shareholder Fong Wern Sheng, over the last 26 years, the Tanjung Malim land was held for future development.

The management's patience appears to have paid off as the group finally sensed an opportunity in April, when local conglomerate DRB-Hicom Bhd and its Chinese automotive partner Geely signed a heads of agreement to develop the AHTV as the country's next-generation vehicle hub.

"Our land in Tanjung Malim, which is strategically located next to the proposed AHTV, is our jewel in the crown. Supporting sectors, including property development, will be needed to accommodate the anticipated workforce and business in the auto hub. This presents a great opportunity for us to unlock the value of our land," Fong tells The Edge.

He was appointed to the board of PGF as an executive director in 2003, before he was re-designated as an executive chairman in 2017. The 42-year-old assumed his current role as CEO in May this year.

A look at PGF's 2023 annual report reveals that the Diamond Creeks Country Retreat land was acquired by the company in 1997. The land is under a leasehold that expires in 2095 and has a carrying value of RM147.229 million.

Fong highlights the fact that a total of 402.74 acres have been earmarked for a garden city development, offering more than 6,000 units of residential and commercial properties with an estimated gross development value (GDV) of RM3 billion.

"Our master plan consists of an agrotourism element, as 221.53 acres have been allocated for durian plantation, with another 23.76 acres for agricultural plantations of other tropical fruits such as mangosteen, papaya, passion fruit and Japanese citrus," he says.

In addition, the project also aims to set up a 53.37-acre freshwater aquaculture centre to nurture foreign species of fish such as Jade Perch and sturgeon.

According to media reports, the 1,000-acre AHTV is expected to attract some RM32 billion worth of investments over the next 10 years, along with direct and indirect bene­fits from national car company Proton Holdings Bhd's plan to fully relocate its manufacturing facilities to Tanjung Malim by 2026.

Proton, in which Geely owns a 49.9% stake while DRB-Hicom holds the remaining 50.1%, currently produces five models in the AHTV and another two models in Shah Alam, Selangor.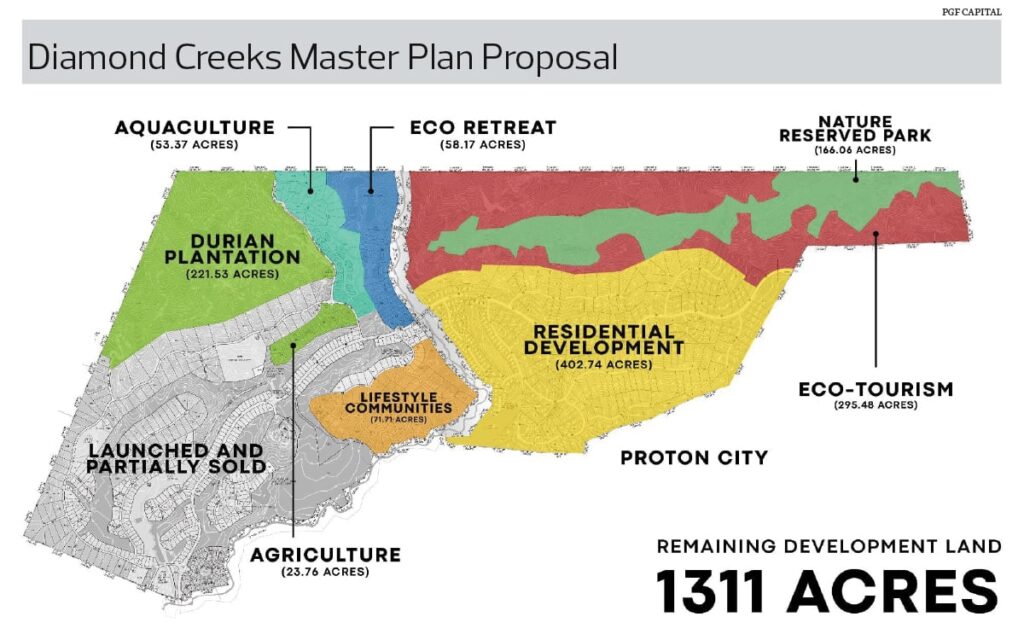 The AHTV will cover an extensive automotive and mobility solutions value chain, from a full-fledged high technology global research and development centre to a manufacturing cluster and supporting services and associated ecosystem.
Fong reveals that PGF is in the process of rezoning a 10-phase master plan for Diamond Creeks Country Retreat, and the group targets to obtain the relevant approvals towards the end of its financial year ending Feb 28, 2024 (FY2024) or early FY2025. "In other words, we hope to launch our first phase by early next (calendar) year."
For Phase 1, which will span 45 acres, PGF has set up a joint venture (JV) with Malvest Properties Sdn Bhd to develop 1,808 units of residential and commercial properties, with an estimated GDV of RM600 million.
The residential portion consists of low-rise apartments, affordable apartments, terraced houses, as well as serviced apartments and commercial retail units.
Insulation products remain the bread and butter
Headquartered at Perai, Penang, PGF is mainly involved in manufacturing glass mineral wool insulation and property development.
PGF, formerly known as Poly Glass Fibre (M) Bhd, was listed in 1990 on the Second Board — now called the ACE Market — before migrating to the Main Market of Bursa Malaysia in 2009.
With an annual installed capacity of 25,000 tonnes, PGF produces and sells glass mineral wool insulation made of recycled glass. Some 70% of its products are exported overseas, primarily to Australia and New Zealand.
It is learnt that Oceania countries contribute the bulk of PGF's top line as insulation is a necessity as building passive energy-efficient designs is embedded in the local building codes.
"In order to capture the rising demand from Australia, which is in line with the recovery of the building sector, we plan to add another 5,000 tonnes of production capacity as early as next year," says Fong.
PGF's net profit jumped more than eightfold to RM16.3 million in FY2023, up from RM1.9 million a year ago. The insulation and related products division contributed 97% to its record high turnover of RM91.1 million.
The group generated a profit of RM3.94 million in the first quarter ended May 31, 2023 (1QFY2023) on revenue of RM28.48 million.
Fong is the second largest shareholder of PGF with a direct stake of 6.6% and indirect stake of 14.83% held via Green Cluster Sdn Bhd.
His father Fong Wah Kai — the company's executive chairman — is the single largest shareholder with an equity interest of 47.72%, held through Equaplus Sdn Bhd. The 76-year-old also owns a direct stake of 4.15%.
Over the past 12 months, PGF's share price has risen 18% and it closed at RM1.29 apiece last Thursday, giving the company a market capitalisation of RM211.04 million. The counter is currently trading at a historical price-earnings ratio of 13.7 times, and price-to-book value of 1.02 times.